Why dont we stop the circle jerk for a minute and ask some questions?
I had planned to talk about this at our PATCON but what the fuck now is as good a time as any.
Lets divide the terrain into three segments:
– Urban
– Suburban
– Rural
Now as have said in other posts where do most of us live?
Urban and Suburban. That's most of the US not FREEFOR specifically.
Look at the voting for those terrain types and this will give you a good idea of the political ideology predominate in these areas.
We can condense this down simplistically into the following
Urban = progressive Free Shit Army and the top ruling elitist
Suburban = mix of all groups
Rural = conservative to libertarian small government types
Now this is not a scientific survey it's a generalization.
If you look at this terrain and the inhabitants you can begin to formulate an assessment. The Urban inhabitants cannot be convinced that their positions are wrong. They do not put any weight into the immorality of government purposes and methods. The Rural inhabitants don't need to be convinced because even though many of them do leech off of others via farm subsidies and such when those dry up they will be just fine getting along on their own. It is the suburban inhabitants that must be convinced that the current system is unsustainable. They must be convinced to get off the fence and make the changes that need to be made. When the battle lines are drawn they will fall right in the middle of that suburban metro area on a house to house basis.
So how do we address the fence sitters?
We must demonstrate to them that the government does not have their best interests in mind. We must demonstrate that government only has the power that we let it have over us. That is our strategic goal. To clearly define the illegitimacy of government. The second strategic goal is to replace that government with a system that more closely shelters the classic liberties of the citizens. A system founded on the values of the DoI.
Those are broad strategic goals and from here on out it has to be a little more specific to your AO.
The Operational constraints that you stay within are to focus activity to achieve the strategic goals. Currently those constraints should be limited to Sustainment and Shaping operations. They should prohibit the initiation of deadly force (combat operations). These constraints serve to guide the Operational goals since FREEFOR has no upper level leadership to establish intent and the constraints.
So we can make some general operational goals that do not pertain to a specific area:
– Gather intel on local areas.
– Build networks with other local groups.
– Establish supply chains.
– Establish safe houses and a network of escape.
– Conduct direct actions that shape the battle space and support the strategic goals.
– Control the message.
That's as far down as we can go without getting more area specific. Those operational guidelines should be used to develop the tactics in your tool box.
Right now given these constraints none of what has been discussed in this thread would be a viable response.
As I have said however we may cross the line that makes those viable tactics.
For example, let us suppose that a suburban inhabitant is falsely raided by the OPFOR. Their current philosophy is not know but FREEFOR can utilize the incident to further its Strat and OP goals. FREEFOR can begin an escalating campaign of response to the incident. Beginning with low level tactics like flyers and graffiti. As the campaign builds feedback from the local inhabitants can be judged. If sufficient outraged is built then a direct action could be undertaken towards the OPFOR that initiated the raid. If the raid was particularly violent or resulted in a death then the action taken could be violent and destructive.
Right now efforts would be made to insure that no loss of life occurs but in the future the outrage may be sufficient that those efforts could be reduced.
Okay lets discuss….
http://publicintelligence.net/fusion-center-locations-revealed/
in News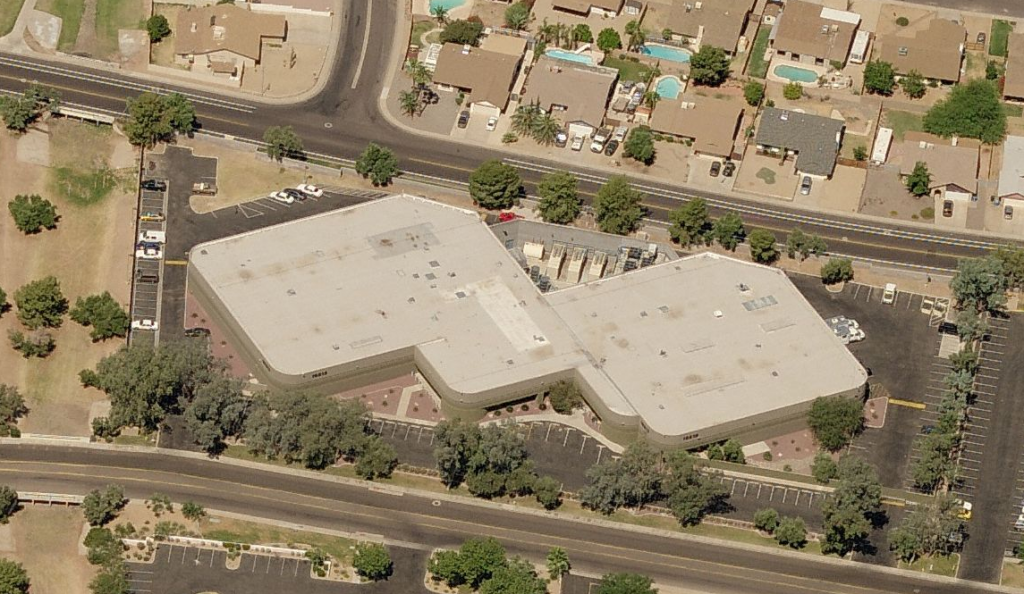 Location of the Arizona Counter Terrorism Intelligence Center. Photo from Bing Maps.
Public Intelligence
Since 9/11, the U.S. Government has engaged in a multibillion-dollar effort to construct a domestic intelligence network for the ostensible purpose of combating terrorism, criminal activity and violent extremism.  One of the central components of this system is the network of "fusion centers" that have sprung up around the country over the last several years.  These entities integrate local law enforcement with a state's police force, Department of Justice, or Office of Emergency Management and are designed to facilitate law enforcement intelligence activities throughout the jurisdiction, providing federal authorities access to local information and databases, while simultaneously allowing federal agencies to disseminate classified intelligence materials to local authorities.   There are almost always federal representatives present in local fusion centers and Secretary of Homeland Security Napolitano has recently testified that DHS is "committed to having an officer in each fusion center."  Most fusion centers also work with representatives of the private sector, particularly those industries related to so-called "critical infrastructure and key resources."
Due to past examples of fusion centers vastly overstepping their original mandates, including monitoring political events, bumper sticker preferences and even constitutionally-protected protest activities, many civil-rights organizations have worked to monitor fusion centers and their activities.  However, public scrutiny has proved difficult in most cases as the majority of fusion centers operate in a highly secretive manner without revealing who works for them, what government agencies they work with or what their basic capabilities are.  Many lack websites or any sort of public presence and information about their activities is often unavailable from official sources.  There is no national authority overseeing their activities and many fusion centers even lack basic privacy policies concerning the collection of information on law-abiding citizens.  Some states have even worked to exempt fusion center activities from public records requests.  In fact, the majority of fusion centers have failed to even identify their most basic attribute: their physical location.  Instead, many fusion centers simply provide a mailing address that leads to a post office box or generic government building.  Some fusion centers do not even provide an address.
Public Intelligence has acquired a dataset that identifies the actual physical locations of nearly all of the 72 DHS-recognized fusion centers operating in the country today.  The information, which includes physical addresses, phone numbers, as well as email addresses for all of the fusion centers, is believed to have been compiled and distributed throughout the Homeland Security Information Network, a government information portal for "information sharing and collaboration between federal, state, local, tribal, territorial, private sector, and international partners engaged in the homeland security mission."  Given the incomplete nature of information distributed previously by EPIC, the ACLU, and other groups attempting to document fusion center activities, this information is of great importance for working towards transparency in an area of domestic surveillance that remains largely unreported.
| State | Name of Fusion Center | Mailing Address | Physical Address | Phone Number | Email |
| --- | --- | --- | --- | --- | --- |
| Alabama | Alabama Fusion Center | Post Office Box 1511 Montgomery, AL 36102 | 201 S Union St Montgomery, AL 36104 | (334) 517-2660 | fusioncenter@afc.alacop.gov |
| Alaska | Alaska Information and Analysis Center (AKIAC) | 101 East Sixth Avenue Anchorage, AK 99501 | 101 East Sixth Avenue Anchorage, AK 99501 | (907) 265-8123 | akiac@alaska.gov |
| Arizona | Arizona Counter Terrorism Information Center (ACTIC) | Post Office Box 6638 Phoenix, AZ 85005 | 16212 N 28th Ave Phoenix, AZ 85053 | (877) 272-8329 | actic@azdps.gov |
| Arkansas | Arkansas State Fusion Center | 1 State Police Plaza Drive Little Rock, AR 72209 | 1 State Police Plaza Drive Little Rock, AR 72209 | | arfusioncenter@asp.arkansas.gov |
| California | Orange County Intelligence Assessment Center | 2644 Santiago Canyon Road Silverado, CA 92676-9791 | 2644 Santiago Canyon Road Silverado, CA 92676-9791 | (714) 628-3024 | ociac@ocsd.org |
| California | Los Angeles Joint Regional Intelligence Center (LAJRIC) | 12440 East Imperial Highway Norwalk, CA 90650 | 12440 East Imperial Highway Norwalk, CA 90650 | (562) 345-1100 | jric@lajric.gov |
| California | Northern California Regional Intelligence Center (NCRIC) | P.O. Box 36102 San Francisco, CA 94102 | 450 Golden Gate Ave., 14th Floor San Francisco, CA 94102 | (866) 367-8847 | dutyofficer@ncric.org |
| California | Central California Intelligence Center/Sacramento Regional Terrorism Threat Assessment Center | | 3720 Dudley Blvd. McClellan, CA 95652 | (888) 884-8383 | sacrttac@sacsheriff.com |
| California | State Terror Threat Assessment Center | Post Office Box 944255 Sacramento, CA 94244 | 3741 Bleckley St. Mather, CA 95655 | (916) 227-1280 | ohsdutyanalyst@ohs.ca.gov |
| California | San Diego Law Enforcement Coordination Center (SD-LECC) | | 4181 Ruffin Road San Diego, CA 92123 | (858) 495-7200 | rttac@sdrttac.org |
| Colorado | Colorado Information Analysis Center | 690 Kipling Street Lakewood, CO 80215 | 690 Kipling Street Lakewood, CO 80215 | (877) 509-2422 | ciac@ciac.co.gov |
| Connecticut | Connecticut Intelligence Center (CTIC) | 600 State Street New Haven, CT 06511 | 600 State Street New Haven, CT 06511 | (203) 777-6311 | ctic@nespin.riss.net |
| Delaware | Delaware Information Analysis Center | Post Office Box 430 Dover, DE 19904 | 1575 McKee Rd. Dover, DE 19904 | (302) 739-5996 | diac@state.de.us |
| District of Columbia | Washington Regional Threat and Analysis Center | 2720 Martin Luther King, Jr. Avenue, S.E., Washington, D.C. 20032 | 300 Indiana Ave NW Washington, DC 20001 | (202) 481-3007 | wrtac@dc.gov |
| Florida | Florida Fusion Center | P.O. Box 1489 Tallahassee, FL 32302 | 2331 Phillips Road Tallahassee, FL 32308 | (850) 410-7645 | floridafusioncenter@fdle.state.fl.us |
| Florida | Miami Dade Fusion Center | | 11200 NW 20th St Doral, FL 33172 | (305) 470-3880 | ioc@mdpd.com |
| Florida | Central Florida Intelligence Exchange (CFIX) | PO Box 608423 Orlando, Florida 32860 | 6643 Hazeltine National Drive Orlando, FL 32860 | | ctic@fdle.state.fl.us |
| Georgia | Georgia Information Sharing and Analysis Center (GISAC) | Post Office Box 29649 Atlanta, GA 30359 | 2635 Century Parkway, N.E. Atlanta, GA 39345 | (404) 486-6420 | generalinfo@gisac.gbi.ga.gov |
| Hawaii | Pacific Regional Information Clearinghouse | 500 Ala Moana Blvd. Honolulu, HI 96813 | 500 Ala Moana Blvd. Honolulu, HI 96813 | (800) 952-5258 | pacclear@hi.hidta.net |
| Idaho | Idaho Criminal Intelligence Center | 700 S Stratford Dr, Meridian, Ada, Idaho 83642 | 700 S Stratford Dr, Meridian, Ada, Idaho 83642 | (208) 846-7676 | icic@fusion.idaho.gov |
| Illinois | Statewide Terrorism & Intelligence Center (STIC) | 2100 S. Dirksen Parkway Springfield, IL 62703 | 2100 S. Dirksen Parkway Springfield, IL 62703 | (877) 455-7842 | stic@isp.state.il.us |
| Indiana | Indiana Intelligence Fusion Center | 302 W. Washington Street Room E243 Indianapolis, IN 46204 | 302 W. Washington Street Room E243 Indianapolis, IN 46204 | (866) 400-4432 | iifc@iifc.in.gov |
| Iowa | Iowa Fusion Center | 215 East 7th Street Des Moines, Iowa 50319 | 215 East 7th Street Des Moines, Iowa 50319 | (800) 308-5983 | inthsin@dps.state.ia.us |
| Kansas | Kansas Threat Integration Center (KSTIC) | 2722 Southwest Topeka Blvd Topeka, KS 66611 | 2722 Southwest Topeka Blvd Topeka, KS 66611 | (785) 2741503 | kstic@tag.ks.gov |
| Kentucky | Kentucky Fusion Center | Post Office Box 1757 Frankfort, KY 40602 | 200 Mero St Frankfort, KY 40622 | (502) 564-2081 | fusioncenter@ky.gov |
| Louisiana | Louisiana State Analytical and Fusion Exchange (LA-SAFE) | 376A East Airport, Baton Rouge, LA 70806 | 376A East Airport, Baton Rouge, LA 70806 | (225) 925-1978 | lafusion.center@dps.la.gov |
| Maine | Maine Intelligence Analysis Center | 45 Commerce Drive, Suite 1 Augusta, ME 04330 | 164 State House Station Augusta, ME 04330 | (207) 624-7280 | miac@nespin.riss.net |
| Maryland | Maryland Coordination and Analysis Center (MCAC) | | 7125 Ambassador Road Woodlawn, MD 21244 | (800) 492-8477 | mdwatch@leo.gov |
| Massachusetts | Boston Regional Intelligence Center (BRIC) | | One Schroeder Plaza Roxbury, MA 2120 | (617) 353-4328 | bric.bpd@ci.boston.ma.us |
| Massachusetts | Commonwealth Fusion Center | 124 Acton Street, 2d Floor Maynard, MA 01754 | 124 Acton Street, 2d Floor Maynard, MA 01754 | (978) 451-3700 | fusion@pol.state.ma.us |
| Michigan | Michigan Intelligence Operations Center | | 714 S. Harrison Road East Lansing, MI 48823 | (877) 616-4677 | mioc@michigan.gov |
| Michigan | Detroit Southeast Michigan Information and Intelligence Center | | 28 Adams Ave E Detroit, MI 48226 | (313) 976-4625 | |
| Minnesota | Minnesota Joint Analytical Center | | Suite 820 111 Washington Avenue South Minneapolis, MN 55401 | (612) 373-2840 | info@icefishx.org |
| Mississippi | Mississippi Analysis and Information Center | 1 MEMA Drive Pearl, MS 39208 | 1 MEMA Drive Pearl, MS 39208 | (601) 933-7200 | msaic@mdps.state.ms.us |
| Missouri | KC Regional TEW | 635 Woodland Ave., Suite 2105B Kansas City, MO 64106 | 635 Woodland Ave., Suite 2105B Kansas City, MO 64106 | (816) 889-6130 | KCTEW@kcpd.org |
| Missouri | Missouri Information Analysis Center | | 2302 Militia Drive Jefferson City, MO 65101 | (866) 362-6422 | miac@mshp.dps.mo.gov |
| Missouri | St. Louis Terrorism Early Warning Group | | 7900 Forsyth Blvd St. Louis, MO 63105 | (314) 615-4839 | info@sltew.org |
| Montana | Montana All-Threat Intelligence Center (MATIC) | Post Office Box 4789 Ft. Harrison, MT 59636 | 2225 11th Ave Helena, MT 59601 | (406) 444-1330 | dojintel@mt.gov |
| Nebraska | Nebraska Information Analysis Center | | 3800 NW 12th St Lincoln, NE 68521 | (402) 479-4099 | nefusioncenter@nebraska.gov |
| Nevada | Nevada Threat Analysis Center | 555 Wright Way Carson City, NV 89711 | 2478 Fairview Drive Carson City, NV 89701 | (775) 687-0450 | ntac@dps.state.nv.us |
| Nevada | Southern Nevada Counter-Terrorism Center | 6767 Spencer Street, Las Vegas Nevada 89119 | 6767 Spencer Street, Las Vegas Nevada | (702) 828-2200 | doc@lvmpd.com |
| New Hampshire | New Hampshire Information and Analysis Center | | 110 Smokey Bear Blvd Concord, NH 03305 | (603) 271-0300 | NhspIntel@dos.nh.gov |
| New Jersey | New Jersey Regional Operations Intelligence Center | Post Office Box 7068 West Trenton, NJ 08628-0068 | 2 Schwarzkopf Drive West Trenton, NJ 08628 | (866) 472-3365 | roic@gw.njsp.org |
| New Mexico | New Mexico All Source Intelligence Center (NMASIC) | PO Box 27111 87502 | 13 Bataan Blvd., Santa Fe, NM 87504 | (505) 476-9600 | intelligence.fusion@state.nm.us |
| New York | New York State Intelligence Center | 630 Columbia Street Extension Latham, NY 12110 | 630 Columbia Street Extension Latham, NY 12110 | (866) 723-3697 | ciu@nysic.ny.gov |
| North Carolina | North Carolina Information Sharing and Analysis Center | | 310 New Bern Ave. Raleigh, NC 27601 | (888) 624-7222 | ncisaac@ncdoj.gov |
| North Dakota | North Dakota State and Local Intelligence Center | | 400 Fraine Barracks Rd Bismarck, ND 58506 | (866) 885-8295 | ndslic@nd.gov |
| Ohio | Cincinnati/Hamilton Regional Terrorism Early Warning Group | | 2000 Radcliff Drive Cincinnati, OH 45204 | (513) 263-8000 | saic@dps.state.oh.us |
| Ohio | Strategic Analysis and Information Center | 2855 West Dublin Grandville Road Columbus, OH 43235 | 2855 West Dublin Grandville Road Columbus, OH 43235 | (614) 799-3555 | saic@dps.state.oh.us |
| Oklahoma | Oklahoma Information Fusion Center | 6600 N Harvey Oklahoma City, OK 73116 | 6600 N Harvey Oklahoma City, OK 73116 | (405) 848-6724 | fusion@osbi.ok.gov |
| Oregon | Terrorism Fusion Center (TITAN) | 610 Hawthorne Ave., Suite 210 Salem, OR 97301 | 610 Hawthorne Ave., Suite 210 Salem, OR 97301 | (503) 378-6347 | oregonfusioncenter@doj.state.or.us |
| Pennsylvania | Pennsylvania Criminal Intelligence Center (PaCIC) | 1800 Elmerton Avenue Harrisburg, PA 17110 | 1800 Elmerton Avenue Harrisburg, PA 17110 | | sp-intelligence@state.pa.us |
| Rhode Island | Rhode Island State Fusion Center | | 10 Dorrance St Providence, RI 02903 | (866) 490-8477 | fusion@risp.dps.ri.gov |
| South Carolina | South Carolina Intelligence and Information Center | | 1731 Bush River Road, Columbia, SC 29210 | (866) 472-8477 | sciic@sled.sc.gov |
| South Dakota | South Dakota Fusion Center | | 1302 US 14 Pierre, SD 57501 | (605) 773-3178 | sdfusioncenter@state.sd.us |
| Tennessee | Tennessee Regional Information Center | | 901 R.S. Gass Boulevard Nashville, TN 37243 | (877) 250-2333 | tfc@tn.gov |
| Texas | Houston Regional Intelligence Service Center | | 5320 N. Shepherd Drive Houston, TX 77091 | (713) 884-4710 | cidcdu@leo.gov |
| Texas | North Central Texas Fusion Center | 4300 Community Avenue McKinney, TX 75071 | 4300 Community Avenue McKinney, TX 75071 | (972) 548-5537 | homelandsecurity@co.collin.tx.us |
| Texas | Texas Intelligence Center | | 5805 N. Lamar Blvd. Austin, TX 78752 | (866) 786-5972 | txdpsintelcenter@txdps.state.tx.us |
| Utah | Statewide Information & Analysis Center (SIAC) | 410 West 9800 South, Suite 370 Sandy, Utah 84070 | 410 West 9800 South, Suite 370 Sandy, Utah 84070 | (801) 256-2360 | saic@utah.gov |
| Vermont | Vermont Fusion Center | 188 Harvest Lane Williston, VT 09405 | 188 Harvest Lane Williston, VT 09405 | (802) 872-6110 | vtfusion@dps.state.vt.us |
| Virginia | National Capital Region Intelligence Center | | 4100 Chain Bridge Road Fairfax, VA 22030 | (703) 212-4590 | fcpd-ncric@fairfaxcounty.gov |
| Virginia | Virginia Fusion Center | | 7700 Midlothian Turnpike Richmond, VA 23235 | (804) 674-2196 | vfc@vsp.virginia.gov |
| Washington | Washington State Fusion Center (WSFC) | Post Office Box 42600 Olympia, WA 98504 | 1110 Third Ave, Seattle, WA 98101 | (877) 843-9522 | wafusion@wsp.wa.gov |
| Wisconsin | Southeastern Wisconsin Terrorism Alert Center | | 749 West State St Milwaukee, WI 53233 | (414) 935-7767 | ifc@milwaukee.gov |
| Wisconsin | Wisconsin Statewide Intelligence Center | Post Office Box 7857 Madison, WI 53707-7857 | 2445 Darwin Rd Madison, WI 53703 | (608) 242-5393 | wsic@doj.state.wi.us |
| Wyoming | Wyoming Criminal Intelligence Center | | 316 West 22 Street Cheyenne, WY 82002 | (307) 777-7181 | klandm@dci.wyo.gov |
Related posts: