Roy Batty
Daily Stormer
April 18, 2018
Russian news did a good report on China's deepwater navy ambitions. Seems like China is getting serious and only the Russians are paying attention to these new developments.
Also, LOL at the title. Someone knows about the /pol/ prophesy.
Frankly, I don't think that China's entrance on the world scene is a good development. The chinks are far preferable to pretty much every other non-White people, but they also suck a lot too.
It's been said before, but they're soulless ant-folk.
And idk if this is the result of the twentieth century or if they've always been this way, but the fact remains that I would not want to be living in a chink cyberpunk dystopia.
No thank you…Although it beats the suburbs, tbh.
That being said, China isn't infected with JEWS and has a boner for everything White because they rightly regard it as being superior to everything to do with non-Whites.
So, it's a mixed bag.
On the one hand, I admire China for not being crazy, on the other hand, they're crazy in their own way, and no amount of skin bleach and eyelid surgery will change that.
Overall though, China contesting the Pacific with the American fleet is probably a good thing.
It means that ZOG's attention will be distracted and they won't be able to focus on Russia, fully. There will be two theaters of war instead.
Ideally, here is how I see things playing out. We go to war with China and Russia – Russia over land and China over sea. During this time, money starts running low in the US, and EBT and all those other bullshit minority entitlement programs have to be cut. Mass chimpouts ensue.
American soldiers and regular citizens get fed up with non-Whites and start wondering why we are fighting these pointless wars abroad. They start forming militias from disgruntled vets and Alt-Right ideologues/partisans and because ZOG's attention is diverted, they start effectively resisting the state and federal governments.
One day, the White Guard is ready to storm DC in like a Valkyrie-type coup scenario without Tom Cruise.
BOOM.
Just like that, we win.
And then we pull out of World War III to start preparing for World War White – where we launch a Reconquista of Europe and every territory where Whites are in peril.
After years of reform and struggle, we divide the world between the techno-Chink AI empire, the Slavo-Cyborg Confederation, the Trans-European Commonwealth and the Corpo-Anglo Syndicate. Naturally, we genocide the Moslems and Blacks and Mexicans.
And then peace comes to the world.
China has started building its third aircraft carrier, military sources say
Work on the vessel, which will use a hi-tech launch system, began at a Shanghai shipyard last year but it is not known when it will be completed
PUBLISHED : Thursday, 04 January, 2018, 9:02pm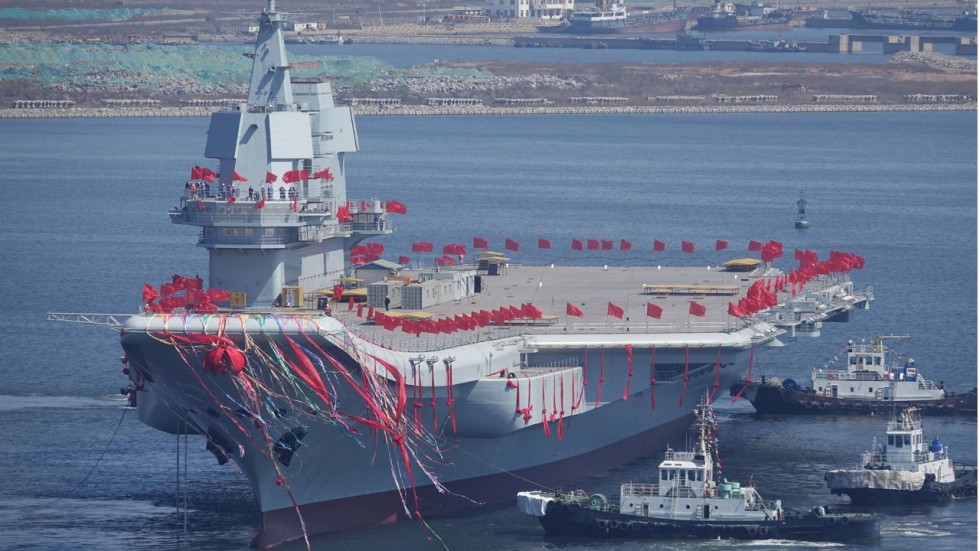 China started building its third aircraft carrier, with a hi-tech launch system, at a Shanghai shipyard last year, according to sources close to the People's Liberation Army.
One of the sources said Shanghai Jiangnan Shipyard Group was given the go-ahead to begin work on the vessel after military leaders met in Beijing following the annual sessions of China's legislature and top political advisory body in March.
"But the shipyard is still working on the carrier's hull, which is expected to take about two years," the source said. "Building the new carrier will be more complicated and challenging than the other two ships."
China has been trying to build up a blue-water navy that can operate globally and support its maritime security, but it so far has only one aircraft carrier, the Liaoning – a repurposed Soviet ship it bought from Ukraine that went into service in 2012.
Chinese navy trains more fighter pilots for expanded aircraft carrier fleet
Its first Chinese designed and built aircraft carrier, the Type 001A, is expected to go into full service later this year.
The sources all said it was too early to say when the third vessel would be launched, but China plans to have four aircraft carrier battle groups in service by 2030, according to naval experts.
Shipbuilders and technicians from Shanghai and Dalian are working on the third vessel, which will have a displacement of about 80,000 tonnes – 10,000 tonnes more than the Liaoning, according to another source close to the PLA Navy.
"China has set up a strong and professional aircraft carrier team since early 2000, when it decided to retrofit the Varyag [the unfinished vessel China bought from Ukraine] to launch as the Liaoning, and it hired many Ukrainian experts … as technical advisers," the second source said.
The sources also confirmed that the new vessel, the CV-18, will use a launch system that is more advanced than the Soviet-designed ski-jump systems used in its other two aircraft carriers.
Its electromagnetic aircraft launch system will mean less wear and tear on the planes and it will allow more aircraft to be launched in a shorter time than other systems.
Why the humble jellyfish could stop China's aircraft carriers in their tracks
Dalian Shipbuilding Industry spent more than eight years refurbishing and upgrading the Liaoning. It is a subsidiary of state-owned China Shipbuilding Industry Corp (CSIC), as is the Shanghai shipyard.
CSIC chairman Hu Wenming in November told state broadcaster CCTV that China now had the expertise to build any type of aircraft carrier. He said a unit of 5,000 people from across the country had been formed to work on developing the country's aircraft carrier fleet.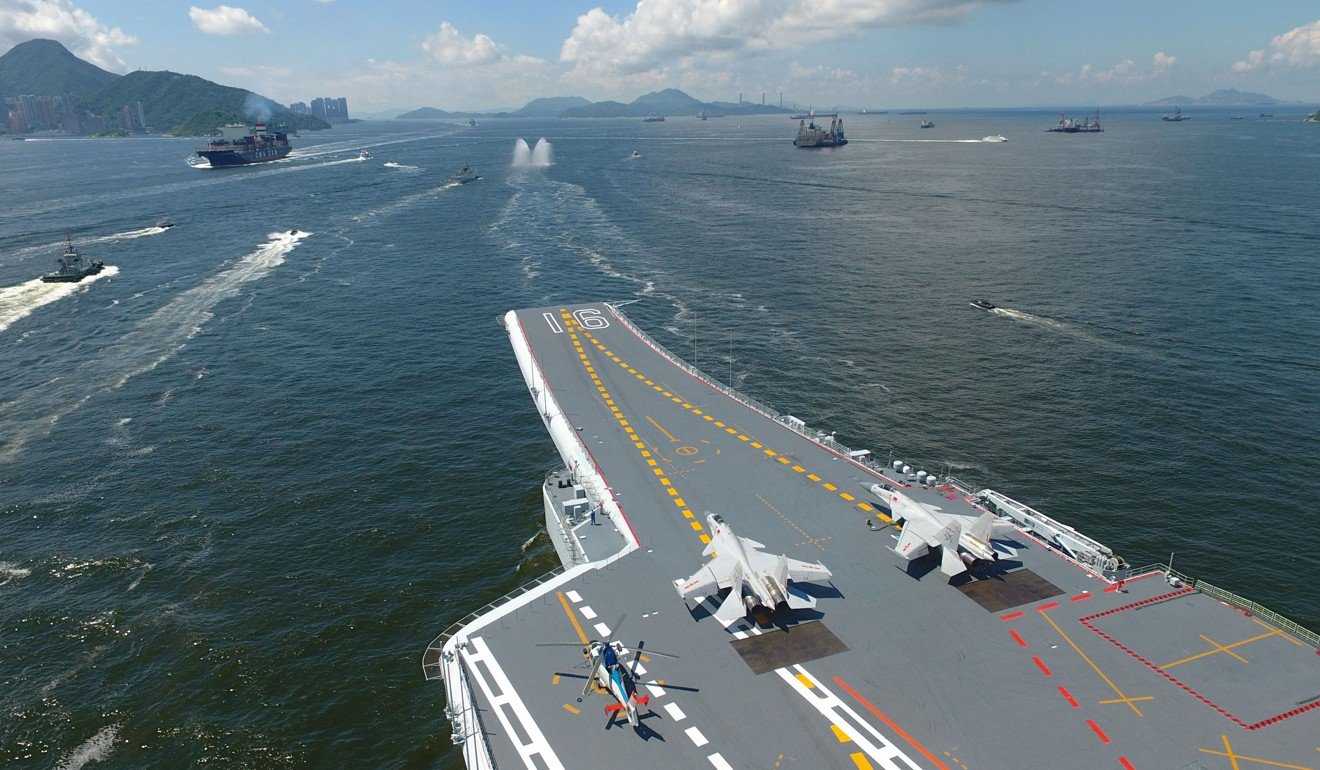 The latest aircraft carrier project has been in the pipeline for some time. Satellite images taken back in 2009 showed a huge frame had been installed at the Shanghai shipyard to accommodate large-scale projects. That year, its general manager Nan Daqing told Shanghai Dragon TV the company was "fully prepared" to build the country's first home-grown aircraft carrier.
The Jiangnan shipyard is China's oldest – it was founded during the Qing dynasty in 1865 and became a state-owned enterprise in 1949.
Sources said the layout of the new aircraft carrier, including its flight deck and "island" command centre, would be different from the other two.
What are the differences between China's two aircraft carriers?
"The new vessel will have a smaller tower island than the Liaoning and its sister ship because it needs to accommodate China's carrier-based J-15 fighter jets, which are quite large," the first source said.
"It has been suggested that they look to Britain's warship, the HMS Queen Elizabeth, which has two small tower islands on the deck. That would create more space for the runway and aircraft, but no final decision has been made yet."
China's navy has meanwhile begun training its own fighter pilots, rather than recruiting them from the air force, as it prepares to expand the fleet, the official PLA Daily reported.