Rewriting the story of humanity's origins: Fossil records suggest our ancestors evolved right across Africa and not just in one region
Experts found humans were not fully formed when they spread across the world
Primitive skulls and bones of homo sapiens do not show a linear progression 
Instead the development is much more patchy from primitive to modern  
It took hundreds of thousands of years before all humans began to look as we do 
A new study says the fossil record does not support humans being fully formed when they spread across the world. Left: African skull from around 300,000 years ago Right: Skull from the Levant dating from around 95,000 years ago
Primitive skulls and bones of homo sapiens do not show a linear progression from primitive to modern.
Instead the development is much more patchy – showing that it took hundreds of thousands of years before all humans began to look as we do today.
Studies of the DNA of modern day Africans – the most genetically diverse continent on Earth – paints a similar picture.
It shows human populations across the continent are so different they must have been separated for huge chunks of time.
Scientists now suggest there must have been, multiple areas where different groups of humans developed different physical features.
These early bands of early humans then interbred over millennia. Only then did modern humans as we know them develop.
The fossil record suggests early homo sapiens were a patchwork quilt of different groups.
Dr Eleanor Scerri, an archaeologist at Oxford University, who led the international research, told The Guardian: 'This single origin, single population view has stuck in people's mind … but the way we've been thinking about it is too simplistic.'
The spread of humans led to local adaptation and development of unique primitive technologies. This image shows Middle Stone Age cultural artefacts from northern and southern Africa
Modern humans have small, slender faces, large round braincases, and chins.
If these features only evolved in one group of humans, we might expect to see a series of skulls going from larger to smaller faces, and gradually bigger, rounder braincases.
The fossil picture is much more complicated.
For example, skulls dating to 300,000 years ago found at Jebel Irhoud in Morocco – have small faces like modern humans.
But instead of a spherical braincase, theirs is long and elongated.
Meanwhile early human fossils dating more recently to 160,000 years ago – at Herto in Ethiopia – had big 'robust' faces – unlike us – but with 'globular' braincases like ours.
Professor Chris Stringer of the Natural History Museum and Dr Scerri have put forward the case in the journal Trends in Ecology and Evolution.
The authors said early humans were largely kept apart by a combination of diverse habitats and shifting environmental boundaries, such as forests and deserts.
Many of the most inhospitable regions in Africa today, such as the Sahara, were once wet and green, with interwoven networks of lakes and rivers, and abundant wildlife.
Designers used the fossils to recreate what they think the first Homo sapiens across Africa looked like 300,000 years ago. But the new research suggests early humans had a huge variation in the sizes and shapes of their heads
Similarly, some tropical regions that are humid and green today were once arid.
The shifting nature of these habitable zones meant human populations would have gone through many cycles of isolation.
This led to local adaptation and the development of unique primitive technologies – stone tools – and genetic makeup.
Professor Stringer pioneered the idea one big human population developed in Africa and spread worldwide – but now concedes this does not fit the facts.
He said when we look at human bones over the last 300,000 years 'we see a complex mix of archaic and modern features in different places and at different times.
'We do see a continental-wide trend towards the modern human form, but some archaic features are present until remarkably recently.'
When it comes to the development of stone tools, the pattern is also mixed.
Sometimes sophisticated tools appear further back in the fossil record, while cruder ones appear more recently – suggesting innovations occurred at different spots on the map at different times.
Prof Chris Stringer added: 'Although I am one of the researchers who originally helped to develop the view that our species, Homo sapiens, had originated in Africa, I have increasingly come to the realisation that our African origin was a complex process.
'The great diversity of African fossils between 200,000 and 400,000 years ago suggests that multiple lineages existed on the African continent at that time.'
This artist's impression shows the patchwork of diverse fossils, artefacts and environments across Africa indicate that our species emerged from the interactions between a set of interlinked populations living across the continent, whose connectivity changed through time
Dr Scerri, said the stone tools discovered across Africa also don't show a clear progression from crude to sophisticated.
She added that while there 'is a continental-wide trend' to greater sophistication over time, she said: 'this 'modernization' clearly doesn't originate in one region or occur at one time period.'
Professor Mark Thomas said the genetic patterns found in modern day Africans also support the idea.
He said: 'It is difficult to reconcile the genetic patterns we see in living Africans, and in the DNA extracted from the bones of Africans who lived over the last 10,000 years, with there being one ancestral human population.'
Dr Scerri said: 'The evolution of human populations in Africa was multi-regional. Our ancestry was multi-ethnic. And the evolution of our material culture was, well, multi-cultural.'
The full findings of the study were published in the journal Trends in Ecology & Evolution.
WHAT DO WE KNOW ABOUT HUMANKIND'S JOURNEY OUT OF AFRICA?
The traditional view
The traditional 'Out of Africa' model suggests that modern humans evolved in Africa and then left in a single wave around 60,000 years ago.
The model often holds once modern humans left the continent, a brief period of interbreeding with Neanderthals occurred.
This explains why individuals of European and Asian heritage today still have ancient human DNA.
There are many theories as to what drove the downfall of the Neanderthals.
Experts have suggested that early humans may have carried tropical diseases with them from Africa that wiped out their ape-like cousins.
Others claim that plummeting temperatures due to climate change wiped out the Neanderthals.
The predominant theory is that early humans killed off the Neanderthal through competition for food and habitat.
How the story is changing in light of new research
Recent findings suggest that the 'Out of Africa' theory does not tell the full story of our ancestors.
Instead, multiple, smaller movements of humans out of Africa beginning 120,000 years ago were then followed by a major migration 60,000 years ago.
Most of our DNA is made up of this latter group, but the earlier migrations, also known as 'dispersals', are still evident.
This explains recent studies of early human remains which have been found in the far reaches of Asia dating back further than 60,000 years.
For example, H. sapiens remains have been found at multiple sites in southern and central China that have been dated to between 70,000 and 120,000 years ago.
Other recent finds show that modern humans reached Southeast Asia and Australia prior to 60,000 years ago.
Based on these studies, humans could not have come in a single wave from Africa around this time, studies have found.
Instead, the origin of man suggests that modern humans developed in multiple regions around the world.
The theory claims that groups of a pre-human ancestors made their way out of Africa and spread across parts of Europe and the Middle East.
From here the species developed into modern humans in several places at once.
The argument is by a new analysis of a 260,000-year-old skull found in Dali County in China's Shaanxi Province.
The skull suggests that early humans migrated to Asia, where they evolved modern human traits and then moved back to Africa.
When it comes to the origins of our species, Homo sapiens, most scholars have accepted that we originated in Africa around 300,000 years ago, likely from a single population.
However, research published in the journal Trends in Ecology & Evolution has challenged this view, suggesting that our ancestors were scattered across the entire African continent and did not stem from a specific region.
This fractured evolution meant that our species was both physically and culturally diverse right from the very beginning, according to an interdisciplinary group of researchers led by Eleanor Scerri, an archaeologist from the University of Oxford and the Max Planck Institute for the Science of Human History.
For the study, the team combined approaches from various disciplines, including anthropology, archaeology and genetics, in addition to reconstructing Africa's past climate, to build a picture of how modern humans have evolved over the last 300,000 years.
They found that not only were Homo sapiens scattered across Africa when we emerged as a species, but these populations were also largely kept apart due to a combination of physical barriers, such as forests and deserts, leading to diversification.
However, these environments often shifted over time, spurring migrations which created some contact opportunities. This may have meant that populations could have gone through cycles of cultural and genetic mixing before becoming isolated again.
This new model of human evolution better explains the available genetic, fossil and archaeological evidence, the researchers said.
For example, this model can explain why human bone fossils from the last 300,000 years vary significantly, with a mix of archaic and modern features appearing in different places and at different times.
"In the fossil record, we see a mosaic-like, continental-wide trend toward the modern human form, and the fact that these features appear at different places at different times tells us that these populations were not well connected," Scerri, said in a statement.
The archaeological evidence also lends weight to the new hypothesis.
"Stone tools and other artifacts—usually referred to as material culture—have remarkably clustered distributions in space and through time," Scerri said. "While there is a continental-wide trend toward more sophisticated material culture, this 'modernization' clearly doesn't originate in one region or occur at one time period."
Evolutionary changes are seen between the skull bones of two different Homo sapiens. New findings suggest that modern humans evolved in populations that were scattered across the African continent. Philipp Gunz, Max Planck Institute for Evolutionary Anthropology
Finally, the team's analysis of the available genetic data indicates that the single origin model is insufficient, according to Mark Thomas, a geneticist from University College London and co-author of the study.
"It is difficult to reconcile the genetic patterns we see in living Africans, and in the DNA extracted from the bones of Africans who lived over the last 10,000 years, with there being one ancestral human population," he said. "We see indications of reduced connectivity very deep in the past, some very old genetic lineages, and levels of overall diversity that a single population would struggle to maintain."
The new research highlights how the evolution of modern humans in Africa was a multiregional, multiethnic and multicultural phenomenon, Scerri concluded.
Early Humans Probably Didn't Evolve from a Single Population in Africa
Homo sapiens are incredibly diverse — we live in wildly different societies, follow different rules and love and fear different gods.
Despite that awesome diversity, mounting evidence suggests the first humans were even more different from one another than we are today.
In a new commentary published online on Wednesday (July 11) in the journal Trends in Ecology & Evolution, an interdisciplinary group that includes geneticists, bioanthropologists, and archaeologists argues that we didn't evolve from a single population in a single region of Africa, but rather from separate populations across Africa that fully mixed only much later. [Image Gallery: Our Closest Human Ancestor]
Evidence is showing that "human ancestors were already scattered across Africa," said Eleanor Scerri, a research fellow at Oxford University and lead author of the paper. And "the combination of behavioral and physical and cognitive features that define us today started to slowly emerge within the occasional mixing of these different ancestral groups," she added. (Scerri is also a research associate for the Max Planck Institute for the Science of Human History in Germany.)
To draw this conclusion, Scerri and her team not only looked at the available fossil evidence, but also at genetic, archaeological and paleoenvironmental data.
About half a million years ago, Neanderthals and Homo sapiens began to diverge from a common ancestor, according to Scerri. But only around 300,000 years ago did early people actually begin to have features that made them look like humans, she said.
Even then, "all the fossils between 300,000 years ago and about 100,000 years ago don't really look like anyone living today," Scerri told Live Science. The features that define us today, such as a small face, prominent chins, a globular skull and small teeth, were indeed present back then, but not all in a single person, she said.
"These features tend to be distributed across the early fossils in different combinations with different, what we call, more primitive or archaic features that we don't see in anyone living today," Scerri said. So, someone in Eastern Africa may have had the small teeth, whereas someone in southern Africa may have had a globular skull while the rest of their features remained primitive.
And these groups remained separate for a long time, because the dense forests and deserts in Africa served as formidable barriers, according to Scerri. But with the occasional mixing of different groups, between 100,000 and 40,000 years ago, fossils that combine all the modern features in a single individual begin to appear, Scerri said.
"Which means, of course, that evolution probably progressed at a different speed and tempo in different regions of Africa as different groups came into contact with each other at different times," Scerri said. Though it's not clear when most humans on the planet had these modern features, by about 12,000 years ago, when hunting and gathering gradually shifted to agriculture, archaic features such as an elongated head and large robust faces had all but disappeared in humans, Scerri said. (In any case, these archaic features, it should be noted, don't correspond to how "culturally backward" a culture was, Scerri added.)
Ancient tools also buttress this theory, Scerri said.
For about two million years, hominins made "somewhat crude" handheld tools like hand axes or large cutting tools, Scerri said. About 300,000 years ago, "there's really an explosion of different and specialized stone tool forms," she added. These tools, that often used different bindings, different glues, and different designs, took hold in different places across the continent.
"I think there are just a handful of people who are really, really strong proponents of the idea that modern people came from one very restricted region," said Becky Ackermann, a biological anthropologist at the University of Cape Town in South Africa who was not an author of the commentary. So "I don't think the conclusions themselves were particularly novel." [Top 10 Mysteries of the First Humans]
However, "it's good to see [these ideas] being considered in kind of a holistic way," she added.
"Who was arguing the contrary?" said Jon Marks, a professor of anthropology at University of North Carolina, Charlotte, who was also not part of the study. Though the findings didn't come as a shock to Marks, he thinks they point to an important problem in the field — we might be using the wrong metaphors to describe evolution, namely, Darwin's branching tree.
"What we're seeing is a tree is not necessarily the most appropriate metaphor to apply to recent human ancestry," Marks told Live Science. The more appropriate metaphors would be something that branches and then comes back together, rather than branches on a tree, he said.
These could include the roots of a tree, braided streams or capillary systems, he said.
Originally published on Live Science.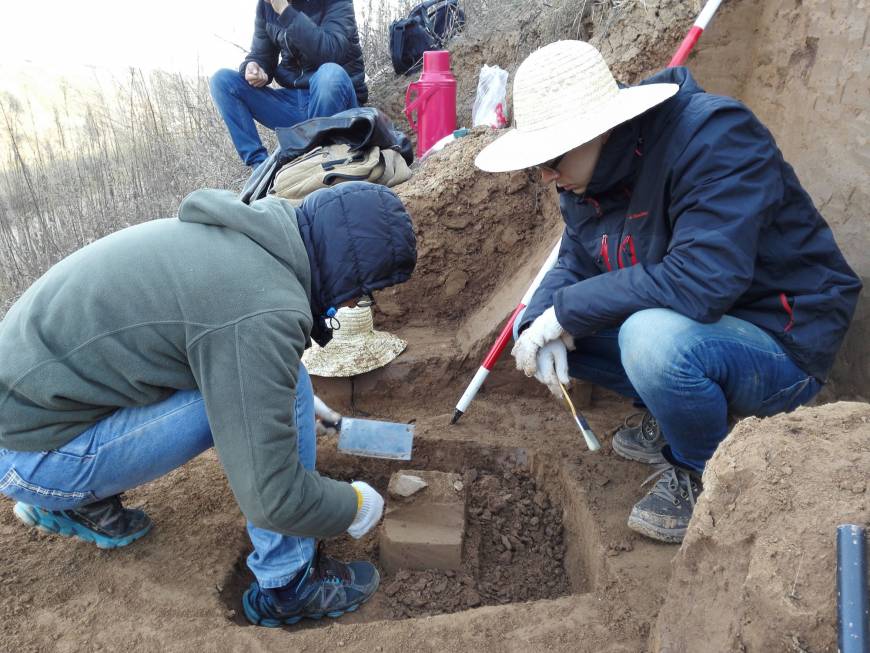 Stone tools 2.1 million years old unearthed in China suggest human kin left Africa earlier than thought
NEW YORK – Stone tools recovered from an excavation in China suggest that our evolutionary forerunners trekked out of Africa earlier than we had thought.
Until now, the oldest evidence of human-like creatures outside Africa came from 1.8-million-year-old artifacts and skulls found in the Georgian town of Dmanisi. The new find pushes that back by at least 250,000 years. There have been other claims of even older fossil discoveries, the study authors said, but those remain unproven.
"There may be older evidence in places like India and Pakistan, but so far … the evidence is not strong enough to convince most of the research community," said study co-author Robin Dennell of Exeter University in England. "With this type of claim, for an early human presence in a region, the evidence has to be absolutely water-tight and bomb-proof."
"It's absolutely a new story," said archaeologist Michael Petraglia of the Max Planck Institute for the Science of Human History in Jena, Germany, who did not participate in the study. "It means that early humans were getting out of Africa way earlier than we ever realized."
That exit came long before our own species, Homo sapiens, even appeared. The researchers believe the tools were made by another member of the Homo evolutionary group. "Our discovery means that it is necessary now to reconsider the timing of when early humans left Africa," Dennell said.
Hominins — humans and their extinct predecessors and relatives — are believed to have emerged in Africa more than 6 million years ago. They are thought to have left the continent in several migration waves starting about 2 million years ago.
The first migrants were likely members of the species Homo erectus ("upright man") or Homo ergaster ("working man") — extinct predecessors of Homo sapiens ("wise man"), which first emerged about 300,000 years ago in Africa.
The oldest known African fossil attributed to a member of the Homo family is a 2.8-million-year-old jawbone from Ethiopia.
The items found in China include several chipped rocks, fragments and hammer stones. The 96 artifacts — mainly flakes made with rudimentary hammers, and likely used for cutting meat and other food — were dug up from 17 layers of sediment in an area known as the Loess Plateau, north of the Qinling Mountains, which divide the north and south of China.
The youngest layer where tools were found was 1.26 million years old, and the oldest 2.12 million years, according to the study published in Wednesday's journal Nature. The layers were used to date the tools, which are of a type known to have been manufactured by Homo species in Africa since at least 3.3 million years ago.
So far, no hominin bones have been found.
The team used paleomagnetism — minerals that show how the Earth's magnetic field was oriented when they formed — to date the sediment layers, and so the artifacts found within them. The dates of geomagnetic reversals, when north and south flipped, are well known to scientists, and the movements of the magnetic poles and the continents can narrow down a date.
"We were very excited," said Zhaoyu Zhu, a professor at the Guangzhou Institute of Geochemistry, who led the fieldwork. "One of my colleagues suddenly noticed a stone embedded in a steep outcrop. After a short while, more artifacts were found — one after another."
The tools were distributed throughout layers of dirt, suggesting that our unidentified ancient relatives came back to the same site over and over, possibly following animals to hunt. Researchers also found bones of pigs and deer, but were not able to provide proof that the tools were used for hunting.
Some experts not involved in the research think that the findings need to be considered with caution. "I am skeptical," said Geoffrey Pope, an anthropologist from William Paterson University in New Jersey. "I suspect this discovery will change very little."
The problem, he said, is that sometimes nature can shape stones in a way that they look as if they were manufactured by hand. Scientists know, for example, that rocks smashed together in a stream can acquire sharp edges.
But Sonia Harmand, an archaeologist at Stony Brook University in New York who studies stone tools, disagreed.
"This could be, frankly, one of the most important (archaeological) sites in the world," Harmand said.
Asia's mysterious role in the early origins of humanity
Bizarre fossils from China are revealing our species' Asian origins and rewriting the story of human evolution
DECEMBER 1941. Japan has just entered the second world war. China, already fighting its neighbour, is in the firing line. At the Peking Union Medical College Hospital, Hu Chengzhi carefully packs two wooden crates with the world's most precious anthropological artefacts. Peking Man – in reality some 200 fossilised teeth and bones, including six skulls – is to be shipped to the US for safekeeping. This is the last anyone ever sees of him.
At the time, the Peking Man remains were the oldest known fossils belonging to human ancestors. Their discovery in the 1920s and 30s caused a sensation, triggering declarations that the cradle of humanity had been found. But just a few decades later, all eyes had turned to Africa. A slew of discoveries there left little doubt that it was our true ancestral home. As far as human evolution was concerned, Asia was out of the picture.
Not any more. The last decade has seen the discovery of new Asian fossils, among others by Chinese palaeoanthropologists with a renewed interest in their heritage. As key moments in our past are rewritten, the spotlight is once more turning east.